NEWS | Sub-regional Workshop in Tunisia – 18/19 October 2022 – Nov 09, 2022
• Tunisia – 18/19 October 2022:

Sub regional Workshop on 'Liability and Compensation for

O

il

and HNS

pollution damage'' 

 
The Regional Marine Pollution Emergency Response Centre (REMPEC) in collaboration of the ministry of Environment of Tunisia, organized a Sub-regional workshop on Liability and Compensation for Oil and HNS pollution damage, held on 18-19 October 2022 in Tunis, Tunisia in the wake of the XELO incident that occurred in April 2022 in the Golfe of Gabès. 
The Workshop was attended by delegations from Algeria, Morocco and Tunisia composed of representatives of competent national authorities and institutions and delivered by experts from the International Oil Pollution Compensation Fund (IOPC Fund), ITOPF, the International Group of P&I Clubs and REMPEC.
The objectives of the workshop were to assist the three countries, in addressing compensation and financial aspects and to build the capacity of officials of competent national authorities on liability and compensation regimes, criteria for the admissibility of claims and financial issues for the reimbursement of the cost of response measures and damages due to Oil and HNS pollution incidents. 
Mrs. Leila Chikhaoui Mahdaoui, Minister of Environment of Tunisia underlined in her opening speech the importance of the topic of the workshop and on the importance of readiness to preserve national interests compensation for damage due to oil pollution and HNS and the response and deployed preventive and response measures . 
At the end of the workshop, all the representatives were able to conclude with recommendations strengthening regional cooperation on these issues and putting into perspective the work that remains to be done in this area of liability and compensation bringing to light by the teachings of this workshop. The involvement of the participants and the discussions held on liability and compensation for damage due to oil pollution and HNS and the response in the Mediterranean thus made it possible to contribute to the dynamism of these exchanges and to advance mutual legal and technical knowledge.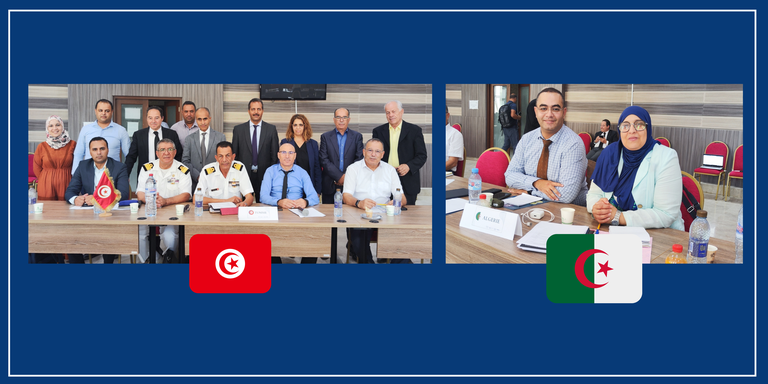 Representatives of Tunisia (left) and Algeria (right) 
  IOPC, IGP&I and ITOPF speakers (left) and Morocco Representatives (right) 
Find all photos of the event available on Flickr