MEETING | Adriatic Sub-regional Marine Oil Pollution Contingency Plan – 8 & 9 November 2022 – Nov 15, 2022
First Meeting on the development of the Adriatic Sub-regional Marine Oil Pollution Contingency Plan between Albania, Bosnia and Herzegovina, Croatia, Italy, Montenegro and Slovenia (SCP Adriatic)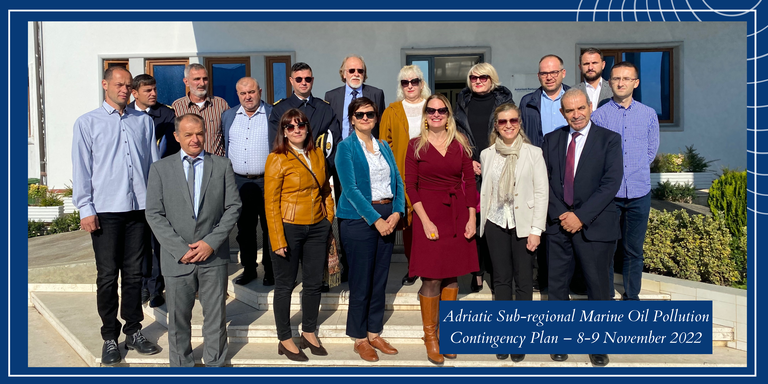 The 8-9 November 2022 took place two-days meeting on the development of the Adriatic Sub-regional Marine Oil Pollution Contingency Plan between Albania, Bosnia and Herzegovina, Croatia, Italy, Montenegro and Slovenia taking place in Durrës Port Authority in Albania, with the MiTE financial support.
This Meeting aims to present the development of an effective Plan for the whole Adriatic, to agree on its implementation considering existing best practices and Sub-regional contingency plans in the Mediterranean, and on the contribution of the countries during the present and upcoming two meetings.
Following the Adriatic SCP development program, the First Adriatic SCP Draft presented by REMPEC was examined. The six countries launched together the common work process, based on the knowledge of the 2005 developments in order to develop a new sub-regional Plan. In the matter of fact, based on the first texts developed under the coordination of REMPEC, between March 2003 and November 2005, the agreement between Croatia, Italy and Slovenia "Agreement on the Sub-Regional Contingency Plan for prevention of, preparedness for and response to major marine pollution incidents in the Adriatic Sea is planned to be enlarge to the whole region. Signed in Portorož , Slovenia during the 14th Meeting of the Contracting Parties to the Barcelona Convention (COP14) the Agreement and the Plan had never entered into force, only two of the three signatories having ratified this Agreement, in accordance with their national legislation.
During this meeting, the representatives agreed on the development process within the framework of an upcoming finalization of the plan and an agreement to be defined during the 2nd and 3rd meetings which will take place respectively on 16 May 2023 on Adriaspill Conference margin (2nd Meeting) and on October 2023 (3rd Meeting).
An initial emphasis has been put on the technical reflection of the Plan and its appendices thought out in the light of current technological challenges. In this process REMPEC is committed to providing the requested inputs within the necessary deadlines to meet the objectives. In line with its mandate, REMPEC has supported Mediterranean coastal States in the preparation of sub-regional systems for preparedness and response to major marine pollution incidents.  Such sub-regional arrangements for mutual assistance in helping to manage marine pollution emergencies, significantly extends the spill response capacities of individual countries, by providing a mechanism for pooling resources and jointly conducting response operations.
All the photos of the first meeting can be found on our Flickr account.