Introduction
The emissions from ships have significant adverse effects on human health, as well as on the environment. For instance, emissions generated during marine engine combustion contribute to the formation of SO4 aerosols, which, along with other types of PM, are able to penetrate deep into the lungs of humans and all living organisms. Exposure to such pollutants is linked to lung cancer, cardiovascular illnesses and asthma. The WHO reports indicate that the "highest ambient air pollution levels are in the Eastern Mediterranean Region."
One way to combat the challenge posed by ship emissions is to, in accordance with MARPOL Convention, designate the Mediterranean Sea as an emission control area for SOx (Med SOx ECA), where special requirements will be implemented to reduce ship emissions. To prepare for the possible designation of Med SOx ECA, and with the relevant mandate, REMPEC has prepared:
SOx emissions under 2016 baseline, 2020 MARPOL VI, and the 2020 proposed Med ECA scenarios
REMPEC prepared the technical and feasibility study for the designation of Med SOx ECA, which concludes that the proposed Med SOx ECA will be effective at achieving SOx and PM emissions reductions for the given costs, imposing reasonable economic impacts to the international shipping industry. According to the Study, the Med SOx ECA:
Would lower emissions by 78.7% for SOx and 23.7% for PM2.5, when comparing to the IMO sulphur cap (0.5%).
Is projected to avoid 1,000 premature deaths, more than 2,000 cases of childhood asthmas.
Would contribute to reduced acidification impact on aquatic systems, by decreasing wet sulphate and dry sulphate depositions by 1.16%. and 1.95% respectively, while the maximum percent decreases could reach 14.23% and 48.13% respectively in certain parts of the region.
Is expected to lead to reduced haze and improvements in visibility, which would be notebly felt over the Straits of Gibraltar and northern Morocco and Algeria, and along the main shipping lane connecting the Straits of Gibraltar, Malta, and towards the Suez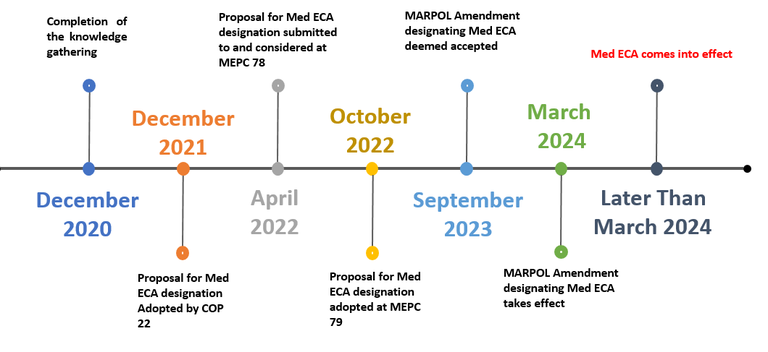 The Contracting Parties to the Convention for the Protection of the Marine Environment and the Coastal Region of the Mediterranean and its Protocols at their 21st Meeting, adopted Decision IG.24/8 on the Road Map for a Proposal for the Possible Designation of the Mediterranean Sea, as a whole, as an Emission Control Area for Sulphur Oxides Pursuant to MARPOL Annex VI, within the Framework of the Barcelona Convention, which outlines the process and details the related activities.