Legal instruments - International level
At an international level, the legal framework dealing with the preparedness for and response to marine pollution, is based on two legal instruments:
the International Convention on Oil Pollution Preparedness, Response and Co-operation (OPRC 1990), adopted on 30 November 1990 and entered into force on 13 May 1995, which provides an international framework for preparedness (contingency planning), for response (international assistance) and for cooperation (research and development and technical cooperation); and
the Protocol on Preparedness, Response and Cooperation to Pollution Incidents by Hazardous and Noxious substances (OPRC-HNS Protocol), adopted on 15 March 2000 and entered into force on 14 June 2007, which complete the OPRC Convention by providing a global framework to facilitate international co-operation and mutual assistance in preparing for and responding to major pollution incidents or threats of marine pollution by introducing the same principles with regards to incidents involving HNS.
IMO has developed a new Guide on practical methods for the implementation of the OPRC Convention and the OPRC-HNS Protocol. The Guide was approved by MEPC 74 (2019).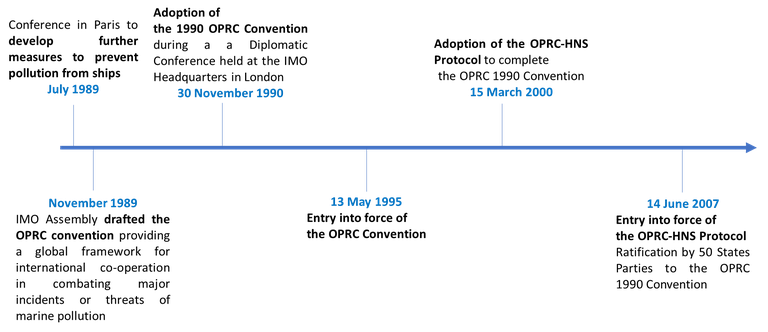 1990 OPRC Convention
Ratification Status in the Mediterranean
Read More about the Convention

---
2000 OPRC-HNS Protocol
 Ratification Status in the Mediterranean
Read More about the Protocol